Description
NOTE: Due to the nature of this product it will ship within approximately 6-7 business days from purchase. International orders may take longer. 
If you are tired of being tired and just overall feeling "off," the Internal Cleansing Kit™ may be just what you need. This top-of-the-line, full body 21-day program is specifically formulated to naturally cleanse each of the body's major elimination and detoxification organs with 12 highly specialized herbal formulas. It's our #1 bestseller because it is one of the most effective, affordable and comprehensive cleanses on the market.*
The Internal Cleansing Kit™ program not only supports digestive health but cleanses the whole body in four different stages. In just three weeks, you'll experience a total-body internal cleansing and rejuvenation for the colon, liver, gallbladder, lungs, kidneys, bladder, lymphatic system, bloodstream, and even your skin.*
Key Benefits
-Includes 12 unique herbal formulas that are designed to deeply cleanse and restore balance to the body's major elimination and detoxification organs*
-Supports optimal digestive health and regularity, and offers relief from occasional constipation, bloating and other digestive discomforts*
-Improves immune health and overall well-being, helping you feel lighter and more energized, with clearer, more healthy-looking skin*
-Laid out in 4 easy-to-follow steps. No fasting is required, though we offer some minor dietary recommendations*
-Made in an FDA inspected the facility to meet the stringent standards of US Pharmacopeia (USP) for quality, purity, potency, and disintegration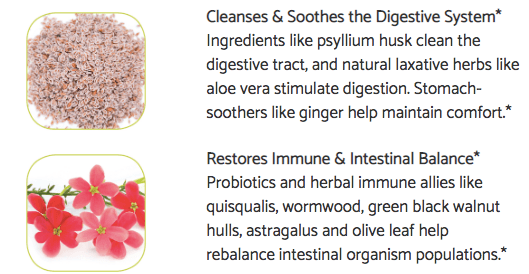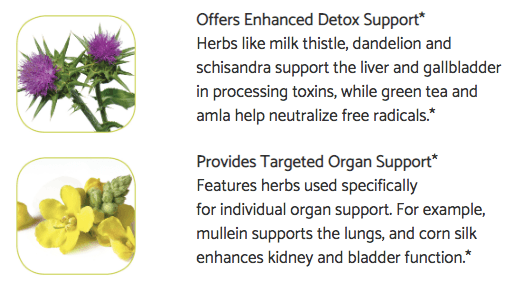 Product Overview
If you're dealing with issues like occasional constipation, bloating, indigestion, brain fog, headaches, tiredness, irritability, lackluster skin, everyday aches and pains, or just feeling "off" — you may be experiencing toxin overload. Many people don't realize that the health concerns they struggle with on a daily basis are a result of a body that is desperately in need of a detox.*
Your body has its own highly-effective, yet delicate detoxification system and the health of that system has a direct impact on your total well-being. If even one of your detoxification organs is not functioning at its peak, the whole process can veer off-course. The Internal Cleansing Kit™ is designed to deeply cleanse each of your key detoxification organs, allowing your body the opportunity to fully reboot.*
Once you've completed this program, you should experience more energy, clearer thinking, brighter skin, reduced body and breath odors, an improvement in your immune health, and an overall feeling of being lighter and more balanced. Many people also find that the Internal Cleansing Kit™ program is the perfect jumpstart to a new, healthier lifestyle.*
4 Simple Steps to a Full Body Reboot
The Internal Cleansing Kit™ features 12, premium-grade herbal formulas that are specifically designed to deeply cleanse and restore balance to all your body's major organs and systems in four simple steps.*
Step 1: You'll begin the Internal Cleansing Kit™ program with a pre-cleanse to initiate the process of removing old, accumulated waste from the colon by ensuring that you have daily bowel movements. The reason we begin here is that if your colon is backed up, you may not be able to absorb nutrients or eliminate toxins properly.*
Step 2: This step focuses on supporting and cleansing your liver—your primary organ of detoxification—as well as your gallbladder. You'll also begin rebalancing your internal ecosystem with targeted herbs and probiotics, as well as protecting your cells from free radicals with powerful antioxidants.*
Step 3: The focus shifts to helping the kidneys, bladder and lungs release toxins in this step. Your kidneys filter roughly 200 quarts of blood daily and are exposed to toxins in the process, so cleansing these hardworking organs is vital. And with the air we breathe becoming increasingly contaminated, keeping the lungs free of old and excess mucus is another critical but often neglected part of the cleansing process.*
Step 4: In this final step, you'll add two targeted formulas. The first tonifies your heart, arteries and veins, and stimulates circulation, in turn helping to promote clear, healthy skin. The second promotes drainage of the lymphatic system, which runs in a similar pathway to blood vessels, helping to filter toxins and other disturbances to the immune system.*
We guarantee that you'll be amazed with how much better you feel once you've completed the Internal Cleansing Kit™. We recommend doing this deep cleanse every 6 months. It's important you are doing all you can to keep your digestive system functioning at its peak, which is why we recommend using our Colon Cleansing Kit™ or Revive 5-Day Cleanse Kit™ three months in between using the Internal Cleansing Kit™ to keep your body as healthy as possible.*
Why Choose the Internal Cleansing Kit™
Comprehensive Full Body Reset – The Internal Cleansing Kit™ offers a total body cleanse that is among the most comprehensive on the market. It goes beyond even the most extensive cleanses out there, because in addition to revitalizing digestive function, it eliminates toxins from vital organs throughout your body for a safe, effective total system flush in four simple steps.*
Quality You Can Trust – The kit contains 12 premium-quality, expertly composed formulas made with non-irradiated herbs and packed in amber glass to protect the ingredients from oxidation and ensure maximum freshness. All formulas are vegetarian and free from any artificial ingredients.*
Not a Crash Diet or a Juice Detox – Unlike some other cleanses, the Internal Cleansing Kit™ does not require you to fast or significantly alter your diet. You will eat nourishing food and receive targeted herbal support for your detox organs from each individualized formula.*
Support and Guidance From Trained Cleansing Specialists – When you purchase the Internal Cleansing Kit™, you get access to Blessed Herbs' herbalists and a team of trained cleansing specialists who can help answer your questions and provide guidance and encouragement during your cleanse.*
Easy to Stay on Track – Your User's Guide takes you through the entire cleansing process, providing dietary recommendations for the duration of the program, and beyond. An easy-to-use Dosage Calendar helps you stay on track every day of your cleanse. Downloadable versions can be found through the User Guides link on this page.*
DISCLAIMER: This is a dietary supplement. The statements made about this product have not been evaluated by the Food and Drug Administration. This product is not intended to diagnose, treat, cure, or prevent disease.
We will only ship to the following Countries:
Japan
Australia
Bahamas
Barbados
Hong Kong
India
Malaysia
Hong Kong
New Zealand
Singapore
Switzerland
United Arab Emirates
United States
We will NO longer ship to the following EU Countries:
Austria
Belgium
Bulgaria
Canada
Croatia
Czech Republic
Denmark
Estonia
Finland
France
Germany
Greece
Hungary
Ireland
Italy
Latvia
Lithuania
Luxembourg
Malta
Netherlands
Poland
Portugal
Republic of Cyprus
Romania
Slovakia
Slovenia
Spain
Sweden
UK