Description
NOTE: Due to the nature of this product it will ship within approximately 6-7 business days from purchase. International orders may take longer. 
Parasites are common yet little-known intruders in the human body. These unwanted guests can survive for years within the digestive tract, stealing vital nutrients and excreting toxic byproducts. The Para Cleansing Kit™ is a comprehensive 12-day program with five unique herbal formulas that target both large and small parasites, quickly ridding them from your body and freeing you of their damaging effects.*
Upgrade Your Cleanse: Take your cleanse to the next level with our top-of-the-line Internal Cleansing Kit™. This 21-day, full body program is our most comprehensive cleanse. Not only does it help remove parasites, but it's designed to cleanse all of the body's major elimination and detoxifying organs in four easy steps.
Key Benefits
-Safely and effectively reduces the population of small and large intestinal parasites that can burden your health*
-An easy to follow 12-day program that's non-intrusive and requires no fasting or dietary changes*
-Includes five top-quality, all-natural herbal formulas with ingredients traditionally used to purge unwanted organisms and soothe the digestive system*
-Also features ingredients to support the immune system, strengthen the body's defenses against unwanted organisms and promote healthy digestion*
-Made in the FDA inspected facility to meet the stringent standards of US Pharmacopeia (USP) for quality, purity, potency and disintegration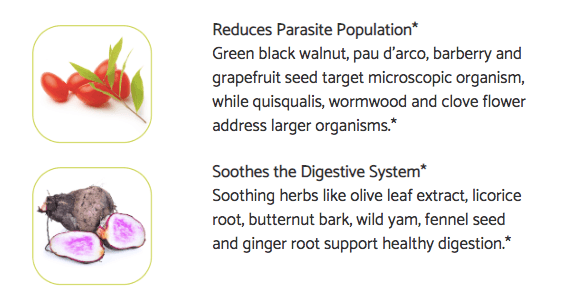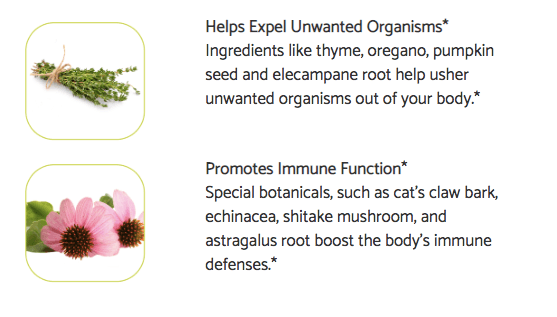 Product Overview
Digestive system parasites are extraordinarily common, yet rarely acknowledged. They enter the body through the food we eat, the water we drink and even the air we breathe. That dog kisses you love? That garden you enjoy digging in? The grill that's a favorite for summertime cooking? They can all harbor unwanted organisms that easily make their way into your body and take up residence there. Shockingly, it is estimated that there are over 100 common types of parasites that can inhabit the human body, some with a lifespan of over 30 years!*
These unwelcome guests are good at what they do. They live and thrive under the radar, setting up shop along the digestive tract, robbing you of essential nutrition, excreting chemicals that add to your toxic burden and can cause symptoms that challenge your health and vitality. That's why it is vital to periodically rid your system of parasites, and the Para Cleansing Kit™ helps you get the job done quickly, easily and effectively.*
This powerful 12-day program features five unique formulas with a comprehensive combination of quality herbal ingredients traditionally used to safely remove both small and large parasites from the body. In addition, the ingredients help expel the unwanted organisms, calm the digestive system and boost the body's immune system defenses. Better yet, the Para Cleansing Kit™ is easy-to-use, non-intrusive and requires no fasting or dietary changes. It's a simple, direct way to rebalance your gastrointestinal tract and improve your digestive and immune system health so you can feel your very best.*
Why Choose the Para Cleansing Kit™
–Quick, Easy and Effective Parasite Elimination – In just 12 days, the potent yet gentle herbs in this program drastically reduce both small and large parasite populations in your gastrointestinal tract.*
–Soothes Digestion and Support Immune Function – The kit also includes targeted botanicals to help calm and support your digestive system as well as boost your immune system function for better defense against unwanted organisms.*
–No Fasting Required – This carefully formulated cleanse effectively eliminates parasites without the need to fast or even alter your eating patterns.*
–Quality You Can Trust – Like all Blessed Herbs products, the Para Cleansing Kit™ contains expertly developed herbal formulas, made with premium quality, non-irradiated herbs. Ingredients are vegetarian, free from any artificial ingredients, and carefully contained in individual packets or amber glass to protect against oxidation and ensure maximum freshness.*
–Support and Guidance From Trained Cleansing Specialists – When you purchase the Para Cleansing Kit™, you get access to our team of trained specialists who can answer any cleansing questions you may have and provide guidance and encouragement throughout your cleanse.*
DISCLAIMER: This is a dietary supplement. The statements made about this product have not been evaluated by the Food and Drug Administration. This product is not intended to diagnose, treat, cure, or prevent disease.